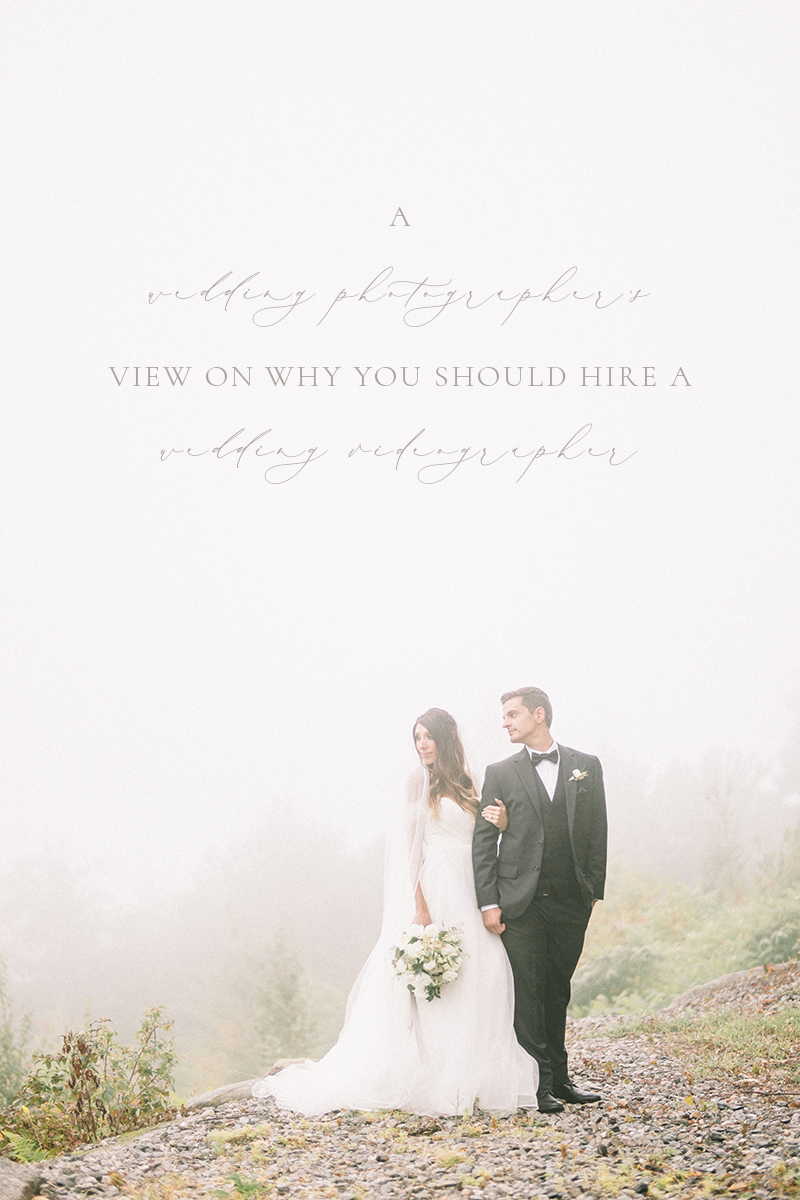 On the fence about having a videographer for your wedding? I am 100% a fan of wedding videographers and love working with them on the wedding day. Though my desire is that you are able to completely relive your wedding day- the unseen moments, the seen moments, the emotions, the details, the feel- there is still sometime so beautiful that videography gives you that photos cannot.
Another great reason for a videographer is that there is another artist at your wedding that may catch a different backdrop, location, angle that I may not see. So we get to work together, bounce ideas off of each other, and create great products for you.
Pro tip: Hire a professional. And by that, I mean, a videographer who is not only a professional with professional gear and years of experience but also one that regularly shoots weddings. Over my last 10 years of shooting weddings, I have worked with my fair share of videographers who have only shot one or two weddings but mostly focus on commercial work. And though none of my couples will ever know this, there were plenty of times where the videographer stepped in front of me during a huge money shot for me as a photographer  or I'd have to keep asking them to move during family formals.  And videographers and photographers each have "big shots" that they need to get. Sometimes they're the same, like the walk down the aisle but some are different, like bridal portraits are huge for photographers but a videographer may only need a couple minutes of these. Or speeches are huge for videographers and we, as photographers, need to make sure we're not in their shot and get the couple photos we need from it and then back away so they're free to do their thing. If both your videographer and photographer are wedding pros, then they'll know how to do that balance so well and make sure you have no missing or flawed photos or footage because of clear communication. So do your research, choose someone who is a professional and fabulous at weddings.
I wanted to show you some of my favorite videos from weddings that I have had the chance to photograph.
French's Point | Stockton Springs, ME
Videographer: Inkspot Crow Films
The Depot | Minneapolis, MN
Videographer: Alma Films
Aleksandra and Greg
Saphire Estate | Sharon, MA
Videographer: Innar Hunt Films
Private Estate | Freeport, ME
Videographer: Big Dog Little Bed Productions
Kaileigh and Remi
Barn on the Pemi | New Hampshire
Videographer: Big Dog Little Bed Productions
Rockland Harbor | Camden, ME
Videographer: Inkspot Crow Films
Kate and Mike
Newagen Seaside Inn | Southport, ME
Videographer: Media Northeast
Megan and Alex
The Barn at Flanagan Farm | Buxton, ME
Videographer: Rebecca Drouin
The Chanler at Cliff Walk | Newport, RI
Videographer: NST Pictures
Granite Ridge Estates | Norway, ME
Videographer: Jay Golde Films
Wequassett Resort | Cape Cod
Videographer: SP Films
New York Yacht Club | Newport, RI
Rosecliff | Newport, RI