For my wedding I made each of my bridesmaids a card of two stick people (you may remember them being on the blog a little while ago, revisit that post here). Hindsight is always 50/50 and I wish that I did more for them. Yes, sometimes you budget may not allow you to buy each bridesmaid a ticket to New York City and spend a weekend eating fancy desserts and watching Broadway plays. But a simple tea party with some DIY personal touches can be done with any budget.

I got together with a few of my friends -and some people I just met, but love them already- in the wedding business and we all pooled ideas to create this…a Bridal Tea Party, for the bride to ask her girlfriends to be in her wedding.
Your bridesmaids help so much with your big day- but most importantly they were there when you needed them before and after the wedding! So honor them! Treat them! Spoil them!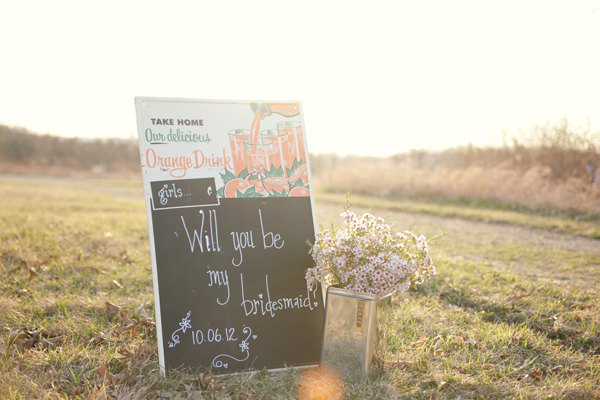 Sarah and Jeff, the super cute couple over at Madison Wisconsin's A la Crate  joined forces with us and supplied us with the majority of the vintage beauties that you will see.
This is our sign in table, if you will. It includes all the goodies and special surprises.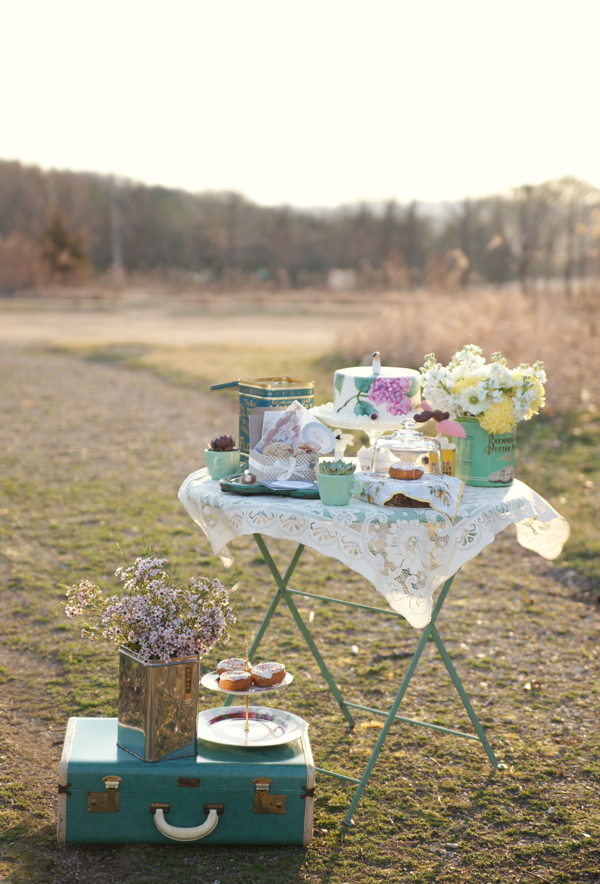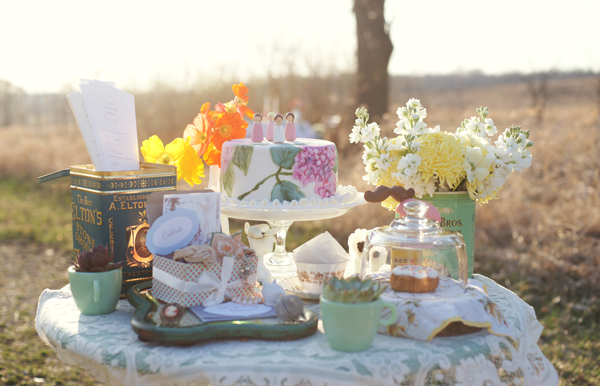 Each bridesmaid receives an old tea box covered in pretty paper and ribbon to take home. The box includes a hand monogrammed hankie with the bridesmaids initials on it and the date of the wedding…necessary for those tearful ceremonies.
Etsy artist, my friend, and photographer Elle Worley made these chocolate mustaches for the Tea Party. Why? Do you even need a reason to have edible mustaches?! No, I think not.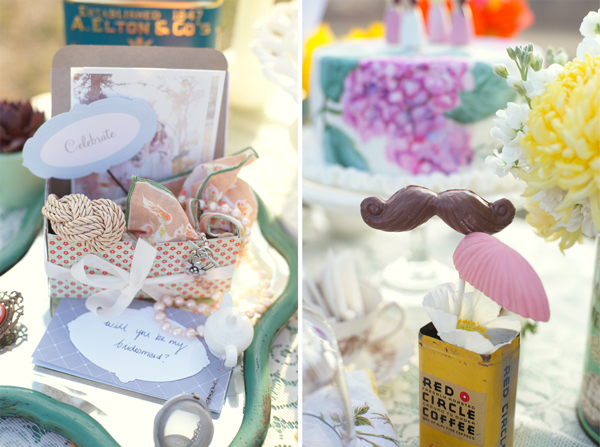 Also in the tea box is a knot bracelet for the bridesmaids to wear on the big day…because you need their help to tie the knot. Made by sweet and creative Etsy artist Lana.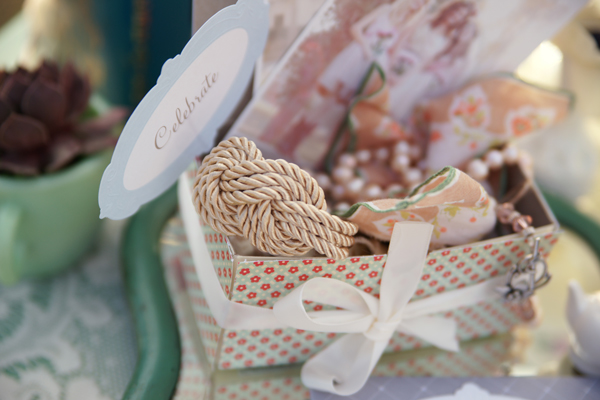 Also in the tea box is a picture (taken by Scott Woodman Photography) of the bridesmaid dresses- uniquely made by Etsy artist Tawny Holt. She has amazing talent and her dresses will add so much character to your wedding.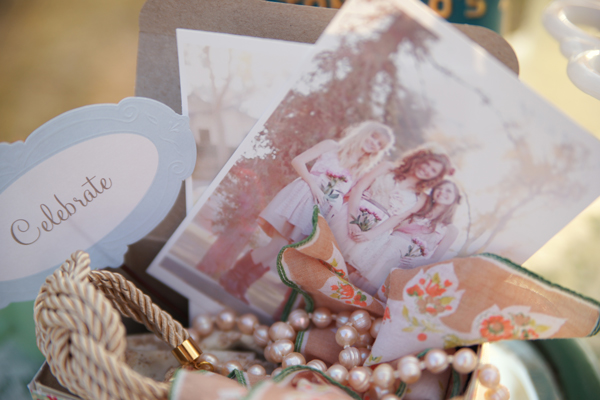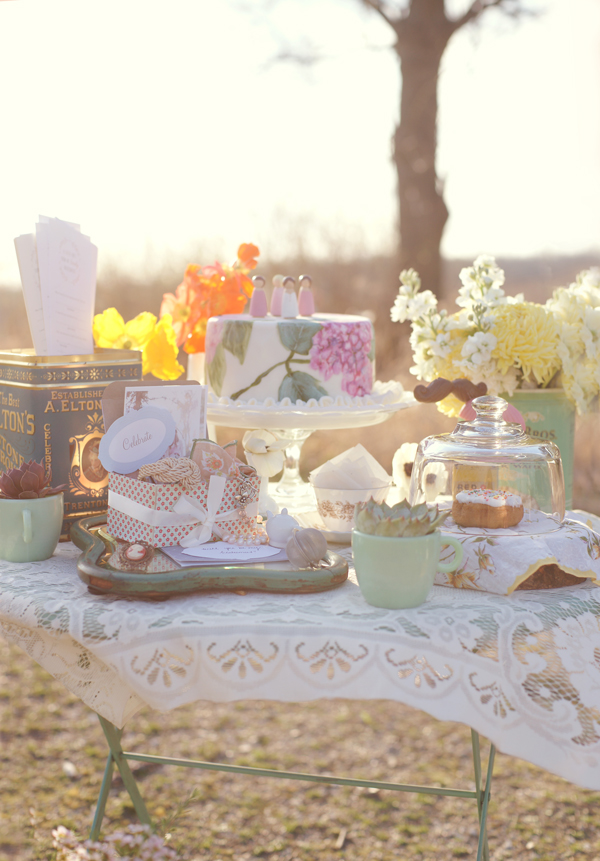 I had the priviledge of working again (august stylized shoot) with Erin of Daffodil*Parker! She's seriously one of the sweetest people I've ever met and that's why they were awarded the Best of Madison in 2009.  She did such a beautiful job with all the flowers and succulents. We decided on a color palette and she ran with it…no, no…she sprinted! Erin went over and above with the flowers again so much that I probably took twenty pictures of each flower. Gorg! Just gorg!
She also did Mike and Michelle's wedding flowers.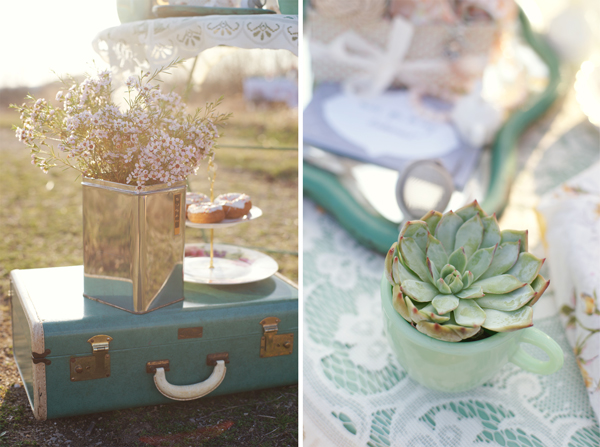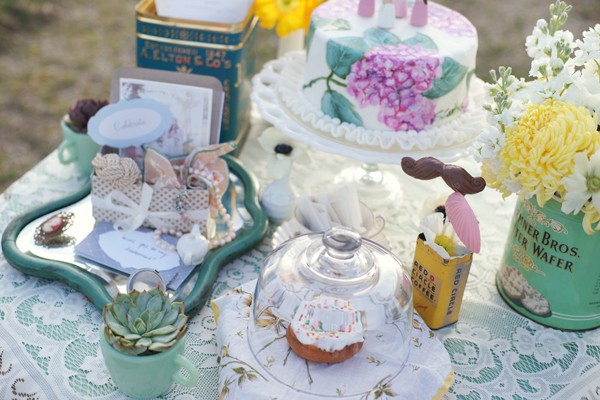 Donuts. What girl doesn't love donuts. Simple tea party foods are the best. And this is probably the last time that you can eat sweets because now you have to fit into that dress.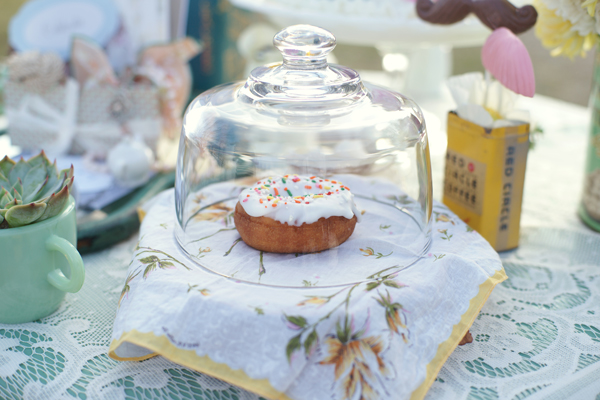 Wooden Peg Dolls. Ah, I love em and diy! I got all the supplies I needed from Jo-Ann's and painted these little cuties.
I think a bridesmaid cake is a great idea for both a bridal tea party and even for the wedding! This cake was hand painted- yes, painted- by the amazing artist Susan Gauthier. Susan is usually painting portraits and murals but I have to say she did a rockin' job on this!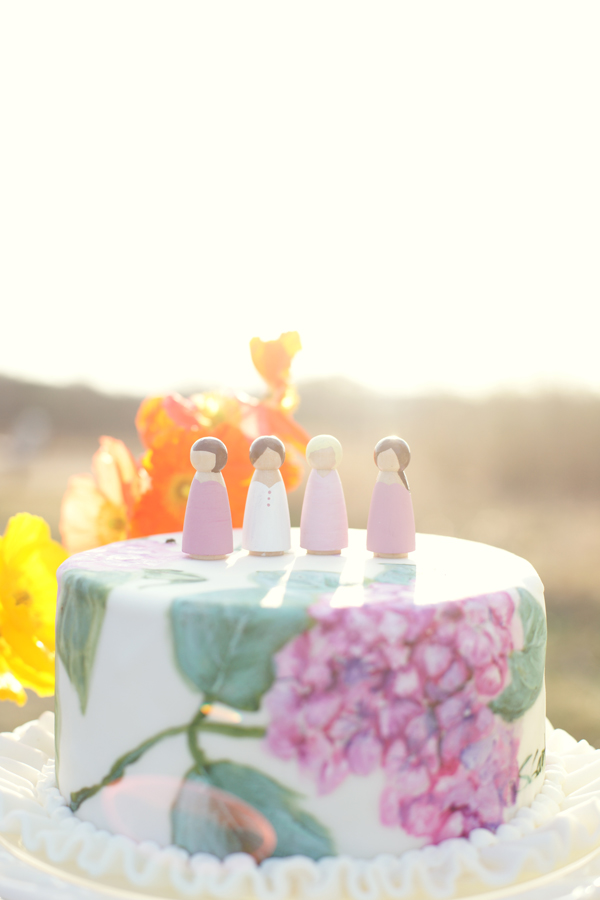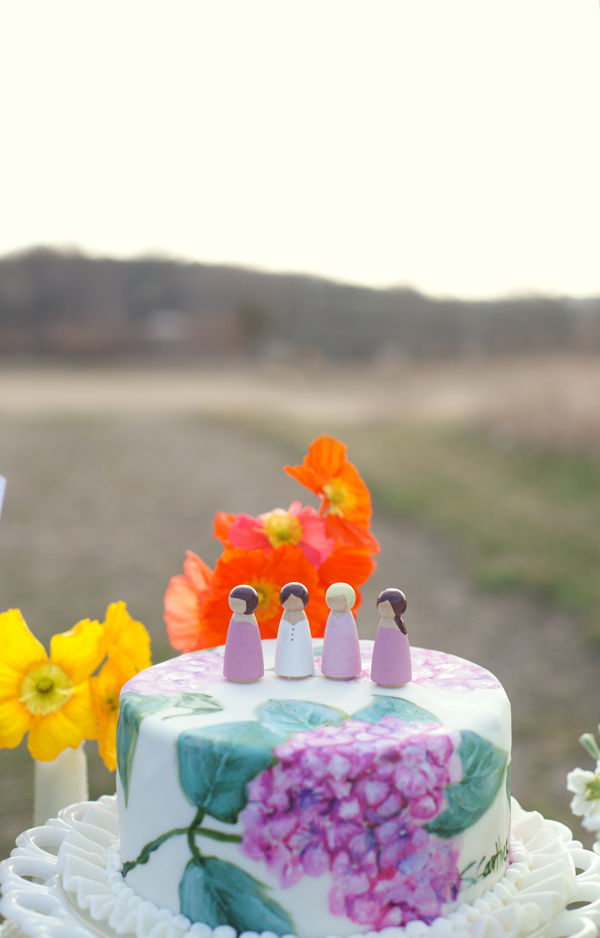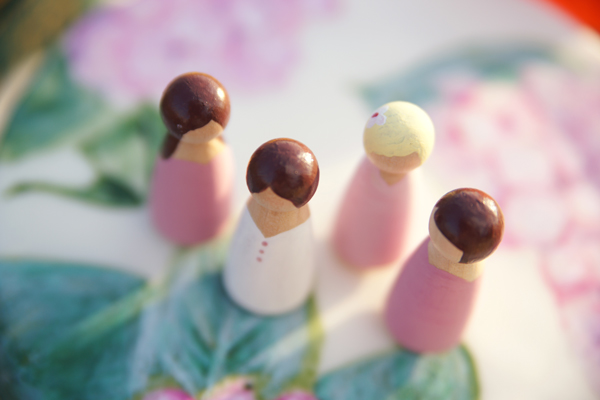 Etsy artist My August Press made up these cute mad-libs for the bridesmaids to do at the Tea Party. These are sure to bring laughter to any party! She also makes these pretty mad-libs for weddings, so hit her up for some at your reception.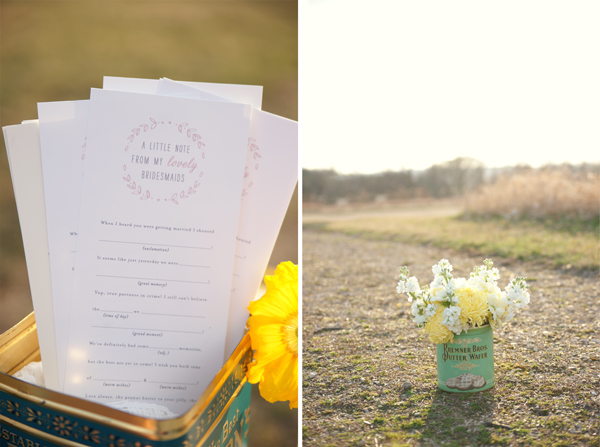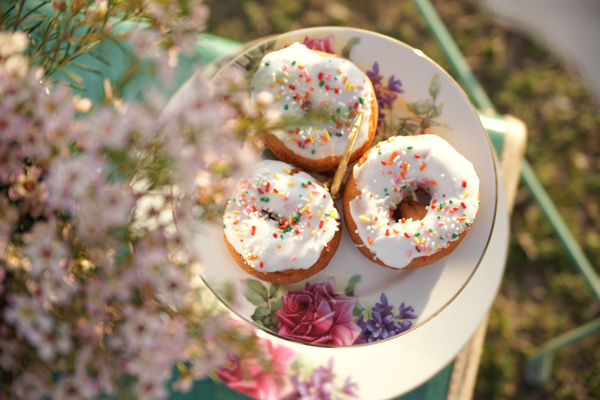 And now we have our dining table and all of it's cuteness…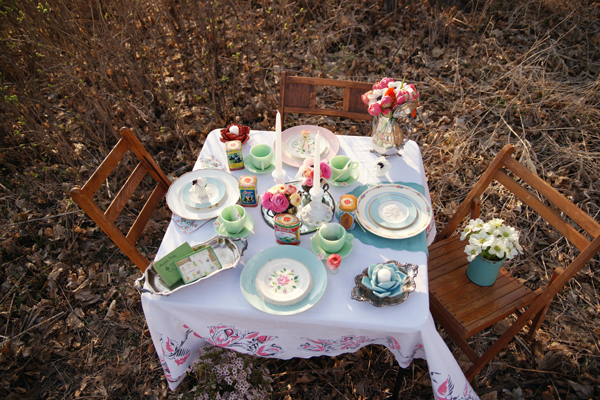 The place tags were simple tea bags with the bridesmaids initial written on the tag part.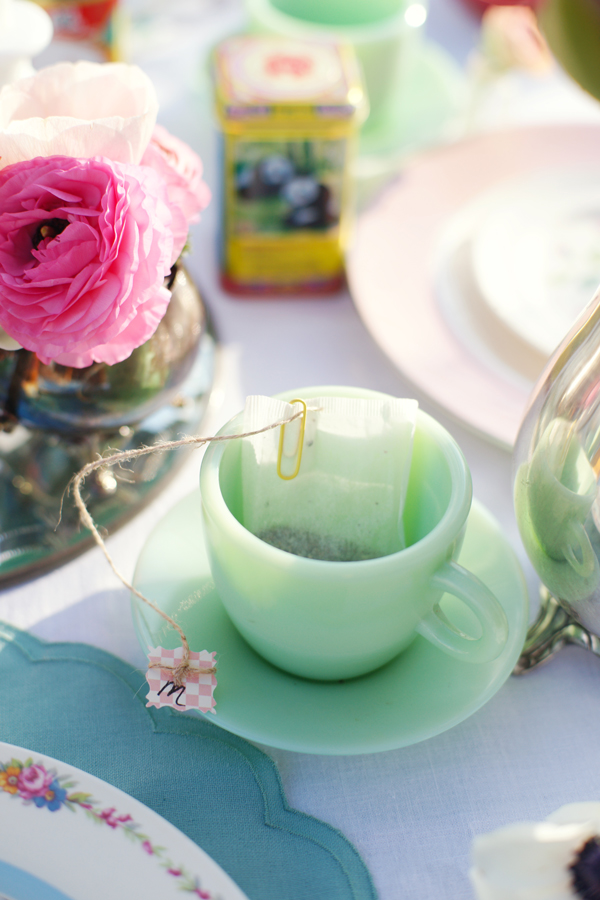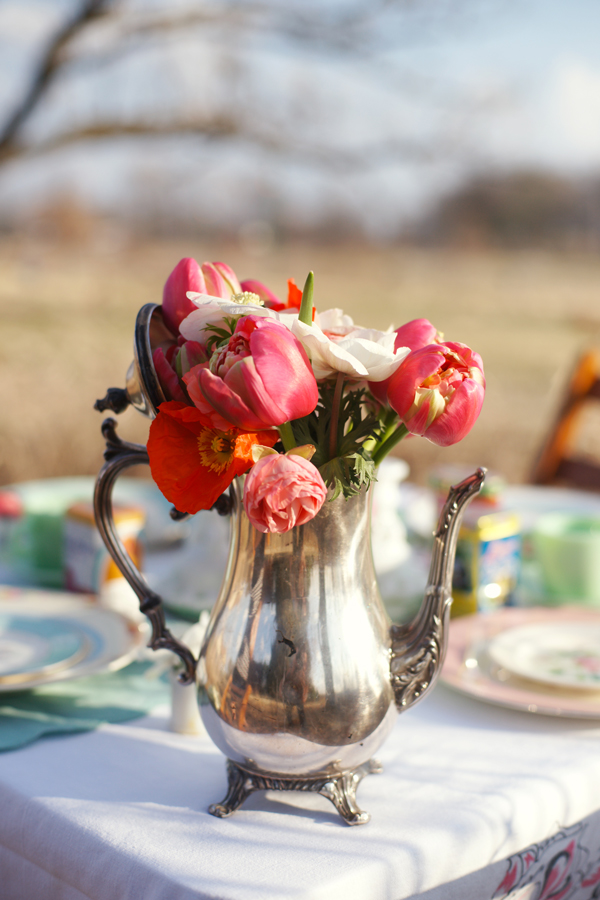 Mismatched dishes gave the Tea Party such a homey feel. Having a backyard/outdoor wedding? Think about mismatching plates to add flare!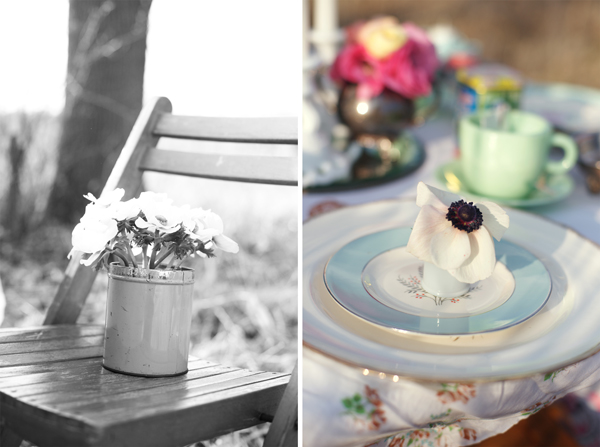 Erin had these hand painted sugar cubes that she brought along to the shoot…they were her great great grandmothers! How could you eat something that cute?!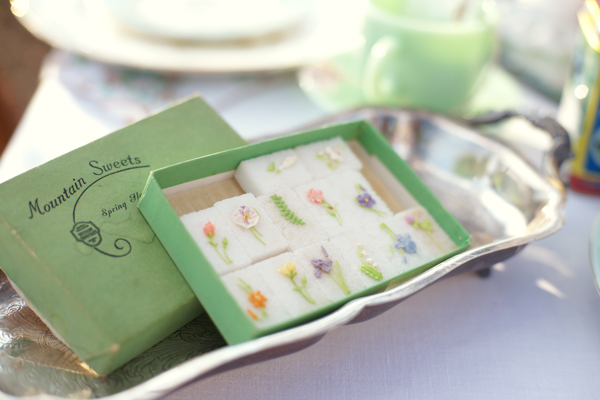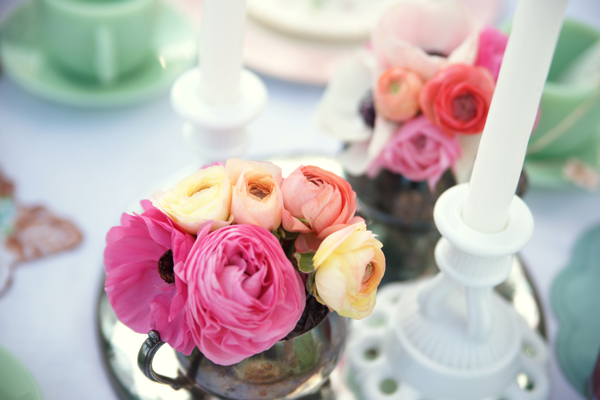 I was mesmerized by these flower buds and their vases. It was like looking at a newborn. 🙂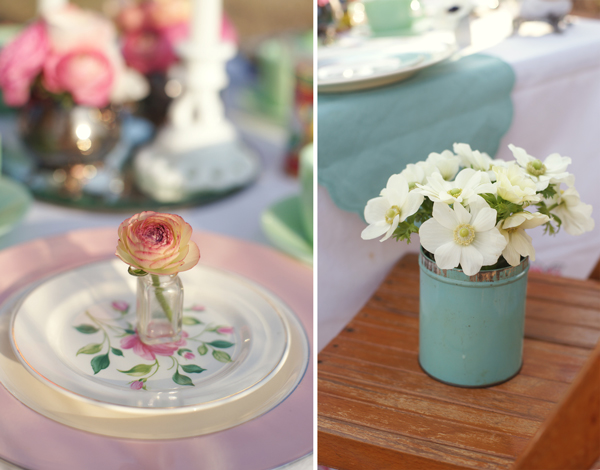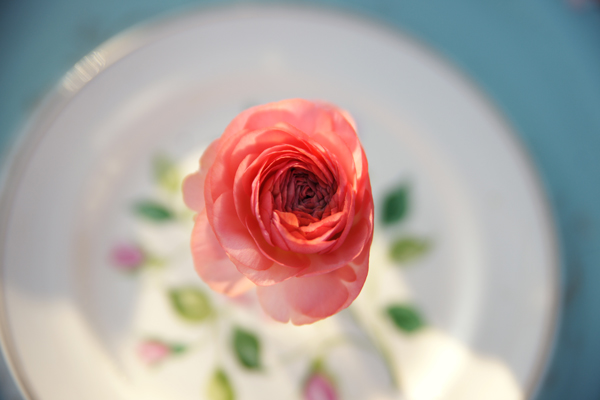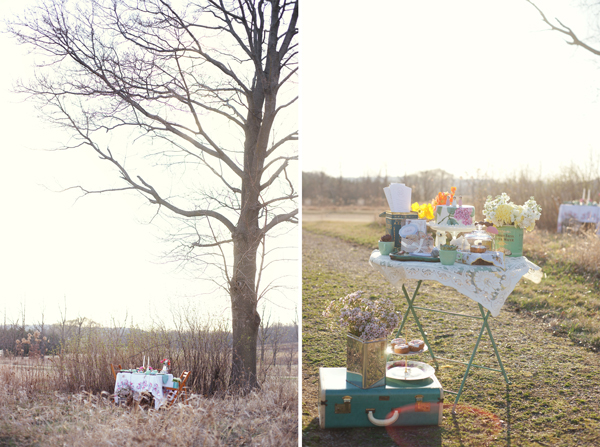 Not only did Elle, fellow friend and photographer, make the mustaches. But she also came along and photographed with me! She just got started in photography and I have a feeling we're going to see her rising the photography ladder pretty soon! These two photographs below are hers! Visit her over on facebook and at her website.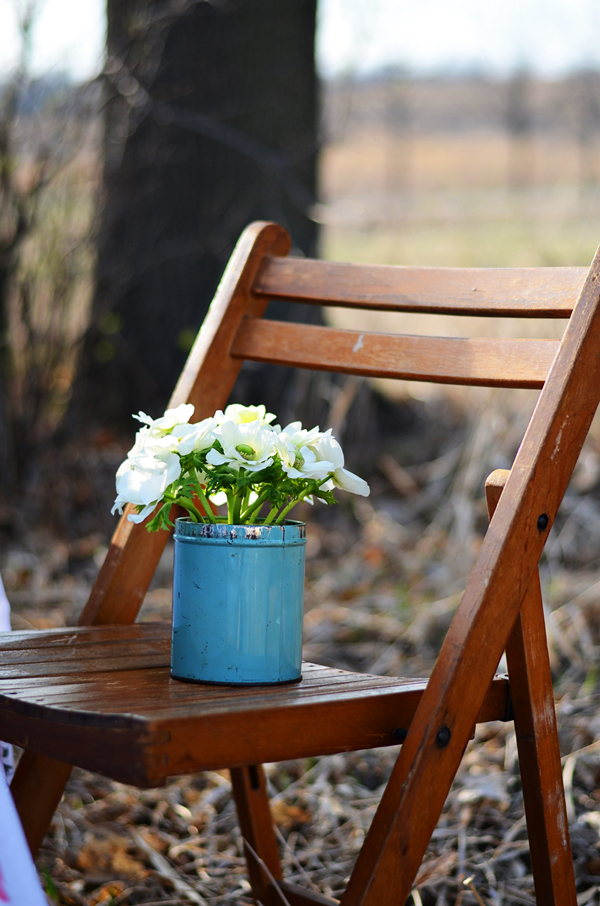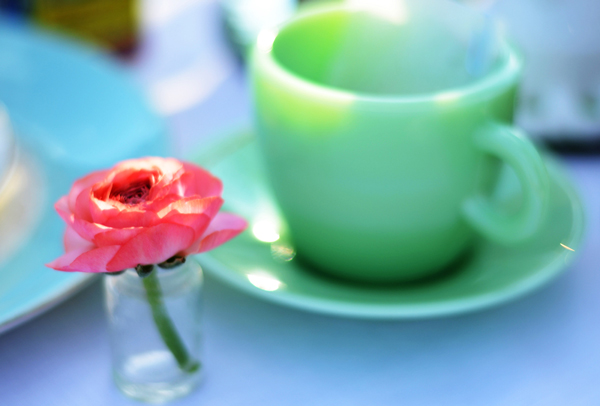 All our vendors…
Venue- Lussier Family Heritage Center
Vintage Rentals- A la Crate
Personalized & Unique Bridesmaid Dresses- Etsy Artist Tawny Holt
Bridesmaid Mad-libs- Etsy Artist My August Press
Knot Bracelet- Etsy Artist Lanita
Chocolate Mustaches- Esty Artist Elle Worley
Florist- Daffodil*Parker
Hand Painted Cake- Susan Gauthier